MFD Freeze Dried Ingredients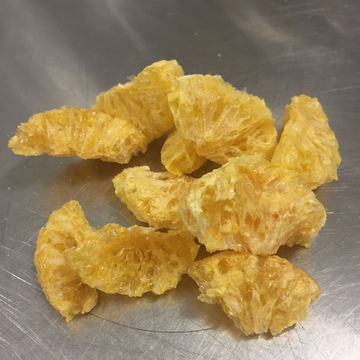 Melbourne Food Depot - Australian Freeze Dried Ingredients
The most common question we get asked, is what is Freeze Drying?
Freeze drying is a process of removing moisture using pressure and temperature. When done correctly a point is reached where the frozen water in the object moves straight to a gas without going through a water phase. In other words water goes from a solid state to a gas without defrosting. Pretty amazing.

What is the most recent ingredients tried?
MFD have had a stroke of luck with perfecting freeze dried sweet corn powder. This product is so rich and creamy. Early tests being carried out include ice cream, biscuits, camping meals and chocolate inclusion. Our Australia grown and manufactured freeze dried corn powder will become a staple along side raspberry pieces, raspberry powder and mandarin segments.

Its always best to ask as we have most likely attempted to freeze dry the plant based ingreident you require. With combined experience of over 60 years freeze drying products someone on the team will have an answer.

Take a look at what is currently available in our Freeze Dried range.

What is the most weird thing you have put in the Freeze Dryer?
A selection of wet paper documents. It was an out there attempt to salvage these historical artifacts.
Custom Freeze Drying Services
This is a possibility, with many companies having contracted our services for FD plant based products. Subject to availability contact one of the team to put forward your ideas.