Isomalt (E953) is used in premium quality confectionery and food products. It is seen as an ideal alternative for conventional sugars or sweeteners. Replaces sugar in a 1:1 ratio, providing both bulk and texture. The natural origin of our Isomalt is beet sugar from Europe. The crystalline structure of isomalt looks just like sugar and can be used as a principal ingredient in confectionery and other food products.

Masterchef Australia product usage:
Isomalt was used by Adriano Zumbo for the Hansel & Gretel House challenge in masterchef season 3. It formed the edible glass windows also in Heston's ginger bread house.
Isomalt was used by Shannon Bennett in his Peach Melba recipe on masterchef season 4
Isomalt was used in the Masterchef 2013, Lolly Bag Cake pressure test by Bernard Chu.
The difference between isomalt and mannitol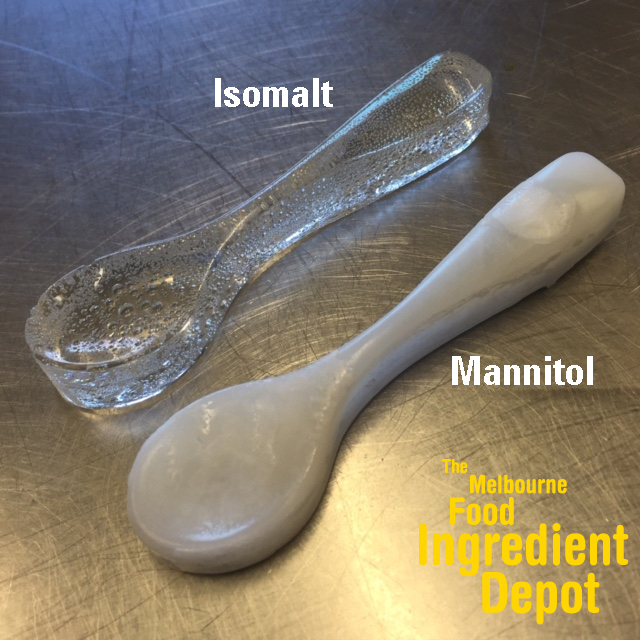 How to use isomalt sugar: By Felix
You only need enough water to "wet" the isomalt to the consistency of wet sand. If you add too much water and the batch takes too long to cook, the isomalt will release its water and become brittle to use. In humid locations you should cook the isomalt from a dry state without using water. Remember - it caramelises at over 200 degrees celcius so if you are diligent you are not going to burn it.

Next - add your colour - whatever it may be at around 140 degrees celcius. You add colour at this stage so there is sufficient time in the cooking process to drive off the moisture from the colour.

Finally - cook the isomalt to 170 degrees celcius, then plunge the pan into cold water to stop the cooking, let it "stand" on a cloth for a few minutes to settle so you don't pour in bubbles from the cooking process into your casting.

Store all your pieces in airtight containers with a de-humidifying agent.

Isomalt will harden as soon as it goes cold and is usually warmed to around 80-90 degrees C to work with it - make it pliable to manipulate.
(F00851)
Product Certificates
To obtain a product certificate please select this option at time of purchase as discounts apply. The certificate will be posted in the file section of your account dashboard as a PDF file. You will require Adobe Acrobat to open and read this file, this can be downloaded from the Adobe website. Requests for certificates after delivery will attract an additional fee.

Why do we charge for this paperwork?
The majority of our customers do not require this paperwork so we are able to pass on the savings. The cost of supplying this paperwork for a $10 product outstrips the product price. Compliance is a major cost to our company and if you require this then its only fair you share the cost. These fees can get quite high for example with all the information required for Organic Certification. See below on how to avoid the fees.

Don't want to pay for a certificate?
Then please purchase a box quantity of the product. This varies depending on the product but is usually a 25Kg container.
| | |
| --- | --- |
| SKU | F00851 |
| Country of Origin | Germany |
| Shipping Weight (Cubic Weight) | 0.4100kg |
| Unit Of Measure | ea |
Crystal Clear Sugar

31 August 2016

If you want some decorative desert fun isomalt is your one stop sugar. Once heated you can spin in, form it and mold it. It's like regular sugar work but it's a lot easier! Chop off the end of a whisk and whack it in an electric drill and fling around a form. Or get a inch ring mold and then encapsulate flavored oil! Check out recipes on the internet there are so many great ideas! This works with colors as well! I ordered online and picked up at the click and collect place.




(5)



Melbourne Food Depot Response
Marcus thanks for your interesting take on using our isomalt. I hope you had everything covered and were wearing protective wear to stop the hot isomalt from burning your skin! Keep enjoying our products and let us know what your up to by tagging @melbournefooddepot on your IG photos.
---
We Also Recommend
---
Others Also Bought
---
More From This Category