PRODUCT SUPPLY IS BECOMING VERY SHORT - EXPECT SUPPLY ISSUES ONCE EXISTING STOCK SOLD.
Tapioca Maltodextrin (N Zorbit) Powder. Due to this products low bulk density this container is very large. N-ZORBIT M is a specially designed maltodextrin derived from tapioca. This product has a very low bulk density (which means it is very light and fluffy). The production process is so involved that it is protected by a world wide patent.

Zorbit is designed to dissolve completely in contact with any aqueous medium. The main role for this premium product in food production is to increase the volume of dry ingredients without changing the flavour profile. This product is essential to achieve a sand-like texture of high-fat ingredients.
Other types of tapioca maltodextrin will not absorb fat in the same way. It is all down to the bulk density, the below photograph shows 30g of each.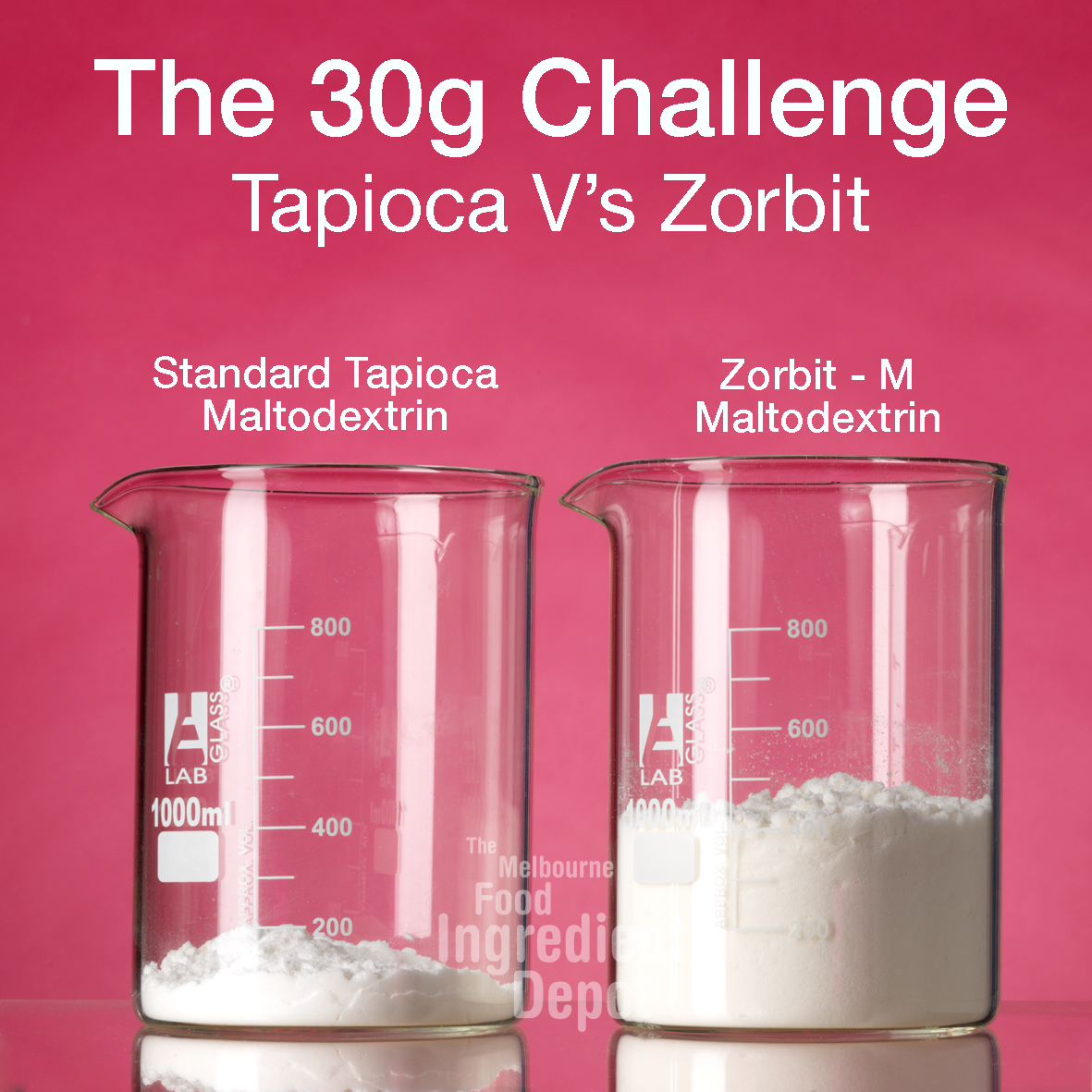 Recommended starting point
liquefied and chilled the fats first then start with a 60% fat to 40% Zorbit. Place mixture in a blender to puree.

Used by Nick in Masterchef Australia, The Professionals to make his dry sauce. Marco was quite impressed and its incredibly easy to acheive the same result at home using this product.

This product featured during Heston Week on Masterchef season 5 in the edible garden challenge.
This product featured during Heston Week on Masterchef season 6 in the chocolate dirt dish.
(F02003)
| | |
| --- | --- |
| SKU | F02003 |
| Country of Origin | USA |
| Shipping Weight (Cubic Weight) | 1.1000kg |
| Unit Of Measure | ea |
| Assembled Length | 0.170m |
| Assembled Height | 0.170m |
| Assembled Width | 0.150m |
trusty dusty

31 August 2016

You need this if you want to make thematic dishes that have dirt, dusk or sand! Unleashing your inner Heston to make Sounds of the Sea or make your own mini vege patch. Tapioca Maltodextrin is super versatile just add any liquid fat: Olive oil, Nutella, or even bacon fat. Depending on desired texture you can whisk it by hand or if you want something a little more refined use a food processor. I ordered this with Vader powder and was surprised to see this huge bag strong zip lock bag cam to my door only two days after clicking "order" online. 200g doesn't sound like much but N-zorbit variant is super fluffy and light! It will last a long time just make sure you have space in your cupboard. If you do any modernist cooking you need this in your ingredient arsenal!




(5)
---
We Also Recommend
---
More From This Category