Thick N Cold is a naturally derived product from plant sources. This product requires no heat to activate, it is pH independant and has no difficult hydration process to follow. Thick N Cold should not alter the colour or clarity of the product it is mixed with. Thick N Cold can be used to thicken liquids to a point where they can be pipped into macarons, cakes or even quinelled on a plate. All this functionality without the gummy mouthfeel traditionally ascociated with hydrocolloids.

Thick N Cold is perfect for strict dietary requirements as it is animal free (vegetarian & Vvegan), wheat, soy and gluten free. The blended product can be heated but may have problems depending on the liquid used. This product can be used to thicken Balsamic Vinegar, vegetable purees and fruit juices. As this is a new product to the Australian Market more uses will evolve over time. The thickness acheived will increase slightly over time but not substantially. A general starting point would be to add 3 grams into 100mls of liquid at maximum shear. Testing has been quite successful using a stick blender and we recommend this approach. Once an understanding of dosages and how the product reacts go wild and let us know the results.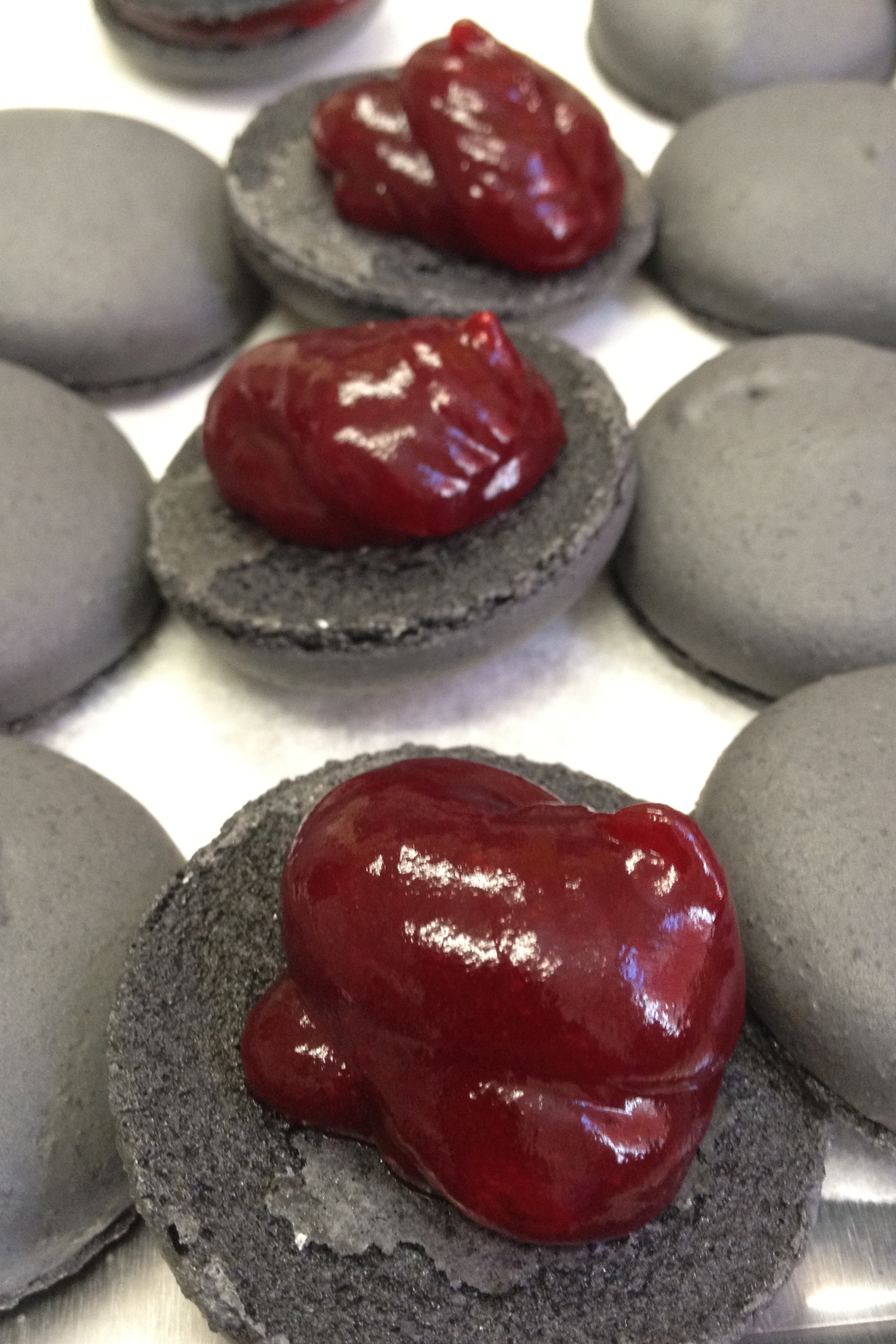 Macaron shells being filled with fresh beetroot juice that has been mixed with Thick N Cold.

One health application we are exploring is the use of this product to thicken foods to aid with swallowing. Traditionally this has been done by using guar gum many Speech Therapists report that patients become sick of the taste associated with guar gum in high dosages over time. As Thick N Cold has no taste and requires no heat to activate it presents as an excellent product for this application.

Some chefs have said this product is similar to the product known as Clear Jel
(F05149)
Product Certificates
To obtain a product certificate please select this option at time of purchase as discounts apply. The certificate will be posted in the file section of your account dashboard as a PDF file. You will require Adobe Acrobat to open and read this file, this can be downloaded from the Adobe website. Requests for certificates after delivery will attract an additional fee.

Why do we charge for this paperwork?
The majority of our customers do not require this paperwork so we are able to pass on the savings. The cost of supplying this paperwork for a $10 product outstrips the product price. Compliance is a major cost to our company and if you require this then its only fair you share the cost. These fees can get quite high for example with all the information required for Organic Certification. See below on how to avoid the fees.

Don't want to pay for a certificate?
Then please purchase a box quantity of the product. This varies depending on the product but is usually a 25Kg container.
| | |
| --- | --- |
| SKU | F05149 |
| Country of Origin | Denmark |
| Shipping Weight (Cubic Weight) | 0.2600kg |
| Unit Of Measure | ea |
Chef used it at food festival

28 March 2018

Chef was creating some amazing results from a tent in a field. Smooth sauces of some unusual things you would really think would work. Got chatting and he finally said what he was using, naturally I went and got both of them. I have found the Thick N Cold to be better than the other one he was also using from them ultratex. Amazing what information a six pack on a hot day can acheive! Well done guys my GF is suitably impressed.




(5)
Impressive - Verified Buyer Review

14 December 2017

Added this on a whim to my order. Got the standard gums for my year 9 food tech class but this really intrigued me. So got it and had a play prior to the class. Well this turned out to be the winner with the kids, easy to use and thickens all kinds of stuff. Really glad I grabbed it, impressive thanks Guys Gwyn




(4)



Melbourne Food Depot Response
Gwyn, thanks for letting us know how our products are used in your classes. Thick N Cold is a great product and has been really well received since its launch many years back. Next time your in the classroom email through some approved pics or tag us on the school instagram account with @melbournefooddepot. Even get some of the guys out for a school demo. Never know whats possible! Regards Nat
A pantry must have!! - Verified Buyer Review

3 December 2017

I don't understand the science behind how this product works but the amount of times it has saved me when gels (and forgotten vegan guests don't have dessert) don't gel is almost unimaginable...I've started to think I subconsciously sabotage anything that requires thickening just so I can use my favourite pantry item. Like mentioned its also great when making a vegan filling when time isn't on your side, all you need is some fresh orange juice, your stick blender and Thick N Cold and you've got yourself the perfect vegan, dairy free, sugar free, gluten free curd like filling and no one will ever know you forgot to make them a dessert!




(5)



Melbourne Food Depot Response
Big thanks for your kind words regarding one of my fave products we carry Emma. Don't forget to tage some of your vegan creations so we can see them on instagram with @melbournefooddepot. Regards Nat
Orange Juice

17 November 2017

Saw it in a demo and had to give it ago for myself. Works just like I saw. Want to use it in my pumpkin soup.




(4)
Thick Beer

18 October 2016

Visited the click and collect store at 508 Lygon St (on a whim) for some info on thickening beer for a whacky dessert I wanted to make. Was pleasantly surprised to discover a product existed that could make this happen! The lovely girl working helped me through the simple online purchasing system and within a few days my thick n cold was at my door step awaiting to be blitzed into my beer! Thick n Cold is magic, not only did it achieve the pipeable consistency I was after, the flavour was not affected at all, and the bubbles caused when blending with the stick blender all dissipated. Overall very happy with this product and the service I received.




(5)
---
We Also Recommend
---
Others Also Bought
---
More From This Category